Jan 31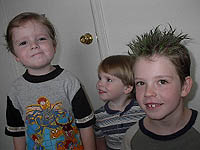 I stayed up way too late last night talking to Matt on AIM and John on the phone. When i woke up this morning, winter had finally arrived. Damn. And I have no hot water at the moment.
I think I may be coming down with a bad case of AIMsickness. *purge* This ain't no cry for attention. I'm just feeling very much like a giant pile of doggy turds right now and perhaps I need to run away and hide for a bit. You can always email if you need something <agent27(at)sympatico.ca> or wanna touch base or whatever. Maybe I'm just full of shit, and will come slinking back at lunch today. But it's just a word of warning.
My boss has been nagging me to go to another movie with him. I dunno what wacked-out film he wanted to see, but he agreed to go to LoTR again with me. On one hand, I'd rather just come home and play vids and stuff, but I think I'll go because I really need to. Maybe Friday.
Yesterday Val was so excited to talk to me. We don't "see" each other much these days. *wave* Email me, jackass. He showed me a bunch of photos from t'anksgivn… I liked this one so much that I stole it.
Read More